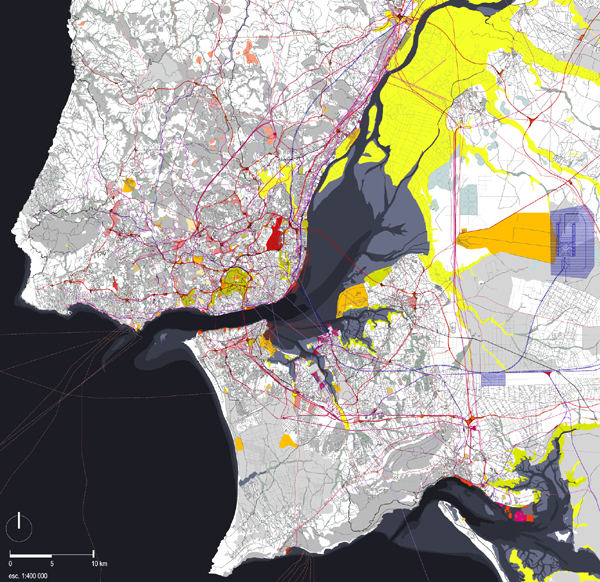 1887 – The railroad line is built, establishing a connection between Lisbon and the west. Cacém becomes an important junction with the Sintra railroad track. The railroad line follows the contours of waterlines and becomes a parallel axis to the former royal road between Lisboa and the aristocratical premises of Sintra.
1955 – The railroad line is electrified, allowing for a faster and more regular commuting service. Together with electricity distribution, a suburban growth process starts developing.
1960's – The former royal road is widened and extended along a new tract bypassing Massamá and Cacém. This will be the main and only support for the growing private car mobility, quickly becoming congested. New high-voltage electricity lines provide the basis for industrial development around Cacém and Massamá.
1990's – The national road becomes IC19, a three-lane motorway, linked with new junctions to a still frail network of old local roads. CREL – a metropolitan ring road passing nearby is built. Centuries old connections are disrupted as the wide motorways splinter through. A metropolitan-wide water supply network is built ending with regular water shortage. New railroad stations are built to serve new suburban neighbourhoods in-between.
2000's – Investment in infrastructure is mainly focused in improving existing roads, public space, walkable conditions in the central districts and multimodal transport hubs. Wastewater treatment is also largely introduced, in order to decontaminate the main water stream that crosses through Cacém.